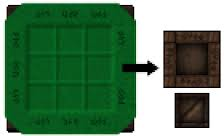 The Arcane Worktable is like a crafting table, but

it uses vis from a wand. The wand must be inserted
at the bottom right hand corner. It is used for crafting
items needed for Thaumcraft, rather than vanilla items.
To create an Arcane Worktable, simply right-click a
table with a wand.
Ad blocker interference detected!
Wikia is a free-to-use site that makes money from advertising. We have a modified experience for viewers using ad blockers

Wikia is not accessible if you've made further modifications. Remove the custom ad blocker rule(s) and the page will load as expected.